When thinking about the right destination for your next company retreat, sales incentive trip or partner event, it's insightful to consider where travelers are heading for leisure. Taking what they like to do in their free time and applying it in a group setting is a sure-fire way to deliver a memorable and exciting experience.
As an alternative to the standard beach destination for an incentive trip, consider a once-in-a-lifetime adventure that will strengthen bonds and reinvigorate the audience. We've taken clients on helicopter rides through glaciers in Whistler, glamping in Montana, snowshoeing around Lake Tahoe, and to the mountains of New Jersey for a secluded retreat. These were all major successes. With 2015 being a record year for National Park attendance – over 307 million visitors – 2016 is forecasted to be another positive year for domestic travel. AAA research reports that 73% of Americans say the National Parks are a "must see" destination, and 46% of Millennials said they were likely to visit within the next year. The most visited parks according to the National Park Service are the Great Smokey Mountains, the Grand Canyon and the Rocky Mountains. This week, the NPS is also celebrating its 100th anniversary. Dan Austin of Austin Adventures – Adventure Travel has already seen a huge spike, even from elite clients.
Domestic travel for Austin Adventures – Adventure Travel, which is dominated by visits to the National Parks, is up 35 percent. Travel to Europe is down 12 percent. All other international destinations, including South America, Africa, Central America and Southeast Asia, are up 6 percent.

In addition, "We are seeing interest in higher-end luxury National Park product going through the roof, so much so that we are challenged to keep up with demand. We are also seeing more higher-end clients who would not have even considered domestic travel instead of, say, a safari, showing up on our door step."
The American Safari
Whether you are for or against the concept of glamping (glamorous camping), the indisputable trend has gained popularity in the U.S. over the past decade. Who can deny the comfort and convenience glamping affords; whether it's staying connected to your social following or saving your back from undeniable pain? Or maybe you don't want to purchase and lug all of the equipment needed for a successful trip. The W hotel in New York City offered an urban twist on this high-end camping experience. The hotel featured an Outdoor Glamping Suite complete with a 12-foot yurt featuring vibrant patterns and textures – right in the heart of the city. At The Resort at Paws Up in Montana, you definitely won't find a flat screen TV in the luxury tents, but you can enjoy the heated slate floors as you overlook creeks and rivers on an expansive 37,000 acres of wilderness.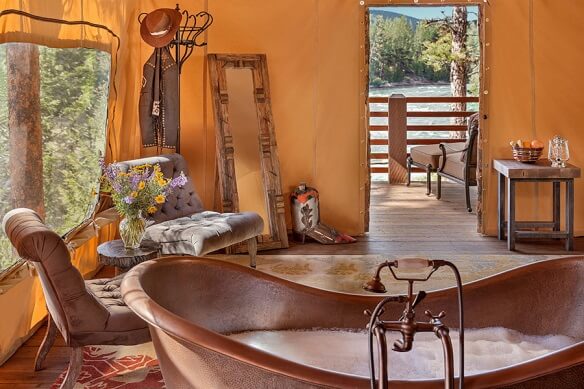 One of the important elements of creating memorable experiences is interruption – transporting people away from the daily grind. Of course, it all comes down to knowing your audience. In a world dominated by "electronic connections", from email anytime/anywhere to social media obsession, people crave real, authentic relationships. Today's meeting participants and incentive travel winners want adventure, time to network face-to-face with colleagues and opportunities to connect with nature. Plus, if images of the outdoors can elicit relaxation, imagine what the real thing can do!
Let's Thrive.
Want to learn more?