Insurance company, MetLife, reported that stress peaks in December for 42% of workers. So for employers who care about employee well-being and engagement, this month will be a crucial one to get right. Michele Nichols, founder of Unique Venues, shared three ingredients for an effective, and even strategic, holiday party with Incentive Magazine.
Our holiday party is taking place on Friday, so let's see if we've added the right ingredients!
---
"Companies can benefit immensely from throwing an end-of-the-year party," Nichols says. "While these events provide an enjoyable evening for employees, they also boost morale, encourage bonding, and allow companies to show appreciation in a more personal way."
Indeed, Nichols thinks of holiday parties as rewards. Executed well, she argues, they can demonstrate appreciation for the prior year's hard work while also motivating employees to continue working hard in the year ahead.
"I think it's important to have fun with the people you work with," Nichols continues. "It gives you the opportunity to connect with your team on a different level."
That connection hinges on a few key ingredients, according to Nichols, who says there are at least three things distinguishing holiday parties that engage employees from holiday parties that merely distract them:
1. The Venue
When it comes to the venue, think outside the box, suggests Nichols, who recently organized an event at a movie theater, and another one at the History Colorado Center, a Denver-based museum dedicated to Centennial State history. Both delighted attendees by surprising them. "It might be easy to say, 'Let's just do something in the office,' but you won't get the same 'wow' factor that you'll get from a nontraditional venue," Nichols says. "Nontraditional venues work really well because they're different and fun."
"Different" and "fun" are two ingredients that will help employers maximize participation in their holiday celebrations — and thanks to social media, could even help them fill their recruiting pipeline for the year ahead.
Creative Group Holiday Party: Venue? Check! Our party is being held at Level 257. It's a Pac-man themed dining and entertainment venue with bowling alleys, ping pong tables, and video games. The venue encourages people to "play together again." It's bound to be different, fun and provide great photo opportunities.
2. The Theme
One of the reasons Nichols like nontraditional venues so much is that they often have unique themes built into them — "Hollywood Holidays" at a movie theater, for example; "Swanky Santa" at a mansion; "Christmas in Italy" at a beloved Italian restaurant; or "New Frontiers for a New Year" at the planetarium. When they're incorporated into everything from the food to the décor, such themes make holiday parties more memorable. And as a result, more effective.
"We have a saying around here: That which is unique is inherently more memorable," Nichols says. "So it is with your theme."
Creative Group Holiday Party: Theme? Check! Our party's theme is an Ugly Sweater party. Taking a break from a formal setting and getting goofy is sure to encourage bonding among colleagues. Not to mention, seeing your boss in a hideous sweater is bound to be memorable.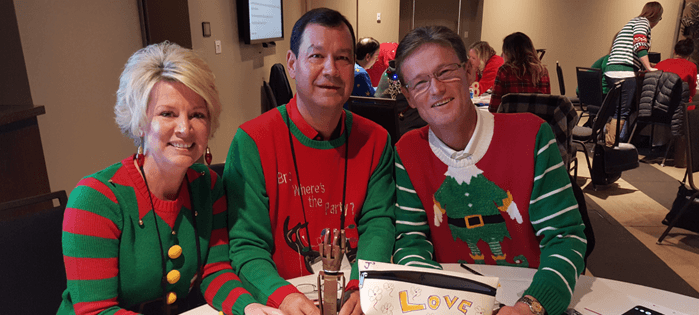 3. The Program
If you're going to position your holiday party as a reward, it's a good idea to build employee recognition into the event, according to Nichols, who says recognition can come in the form of an address from senior executives, an awards program recognizing outstanding employees and teams, or even a contest or game that incentivizes employee participation with prizes and giveaways.
Creative Group Holiday Party: Program? Check! Important milestones, special recognition and of course, the ugliest sweater will be awarded. The goal is that everyone will go home feeling appreciated and closer to their co-workers.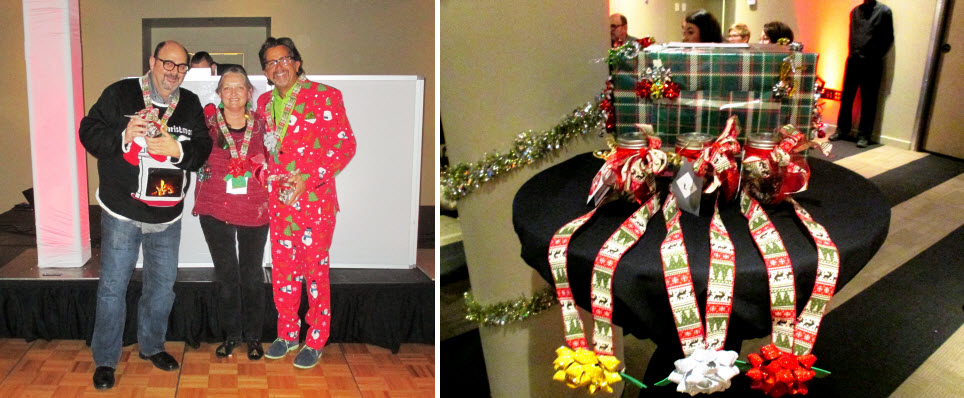 Concludes Nichols: "Think outside the box. Don't just hold an after-work gathering in the office. Get employees out of the office and plan an event they'll actually be excited to attend."