At the start of 2017, we put together a trends report to help make your meetings and events better. We'll review what we said and if it rang true throughout 2017.
The Trends:
The benefit of co-creation and how to co-create.
Why people crave convergence at conferences and how to festival-ize your meetings.
How and why you should design programs with the participants as the focus.
The expanding role of technology.
Why diversity leads to innovation and how to embrace it.
Prepare to deliver successful outcomes.
---
1. The benefit of co-creation and how to co-create.
What we said: When people are invited to co-create, they become inextricably invested in the content and outcome. They become stakeholders in the experience. We've all become storytellers with unlimited platforms to publish on. But actually allowing humans to interact with your brand and co-create in a real way will become the storytelling of the future.
How we saw this play out in 2017:
During a national sales meeting we planned for one of our clients, participants were asked to paint ceramic tiles to represent their goals for the upcoming year. The theme of the meeting was "Own It," and in the spirit of accountability, participants took to the challenge.
At the end of the meeting, the tiles were assembled into a large mosaic piece that served as a visual reminder to not only "own it," but also that the collective responsibility of the team would help them all reach their goal.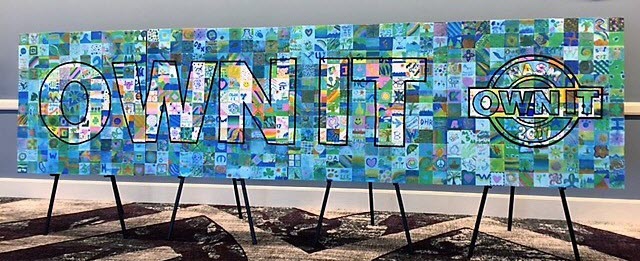 2. Why people crave convergence at conferences and how to festival-ize your meetings.
What we said: In meeting content, an approach focused on convergence can help connect participants in new ways and on new levels. Diverse topics and interactions also help broaden appeal to new audiences by engaging participants on a personal and professional level.
How we saw this play out in 2017:
Event festivalization doesn't just attract attendees, it makes them more likely to take home the message you want them to. According to Michael Dominguez, Chief Sales Officer of MGM Resorts International, the meetings industry is really starting to recognize that being entertained and being educated are not mutually exclusive. In his interview with Convene TV, he explains how risk-adverse shows might be apprehensive of this concept, but that you can "tiptoe into it." You don't have to change the entire program right away, but find ways to incorporate elements of it – if only for an hour of a 3-day program. He gives the simple advice of making sure to activate any location or micro-location with energy, such as with the right music.
Event Manager Blog explains this as a shift in focus to use events in order to make a real impact. "People want to be part of the solution, not just part of the conversation." Here is an example they offer:
"The American Academy of Neurology (Boston 2017) continues the extremely successful Brain Health Fair, which is free to the public. Speakers/specialists give sessions, seminars and consultation to the public. For example, the public can visit the "Ask a Neurologist Booth," or walk through "an inflatable, interactive brain." Safety is taught, and bike helmets are given out. This leads to raised awareness of the field of study, giving back to the destination city, building brand awareness, knowledge and support and, ultimately, affecting those members of the public that participate."
3. How and why you should design programs with the participants as the focus.
What we said: The best designed experiences exist at the intersection of six key components, which can be seen in Creative Group's i|xperience® model. The ability to inspire the audience to be intrigued and actively involved; facilitate their absorption of knowledge; and immerse them in a multi-sensory and out-of-the-ordinary environment, will ensure a memorable and transformative experience.
How we saw this play out in 2017: 
The main talking point at IMEX 2017 was Purposeful Meetings. In the white paper authored by Janet Sperstad and Amanda Cecil, the introduction explains the definition of purposeful meetings as "events that are strategically designed to move beyond financial return on investment measurements and learner outcomes to exploring elements of a meeting experience that impact human behavior and leverage the experience to influence decision making, create moments of meaning and insight, and inspire creativity."  The paper looks at five key components that focus on the participant and create human-centric experiences:
Behavioral Science – How we act, interact and think
Health and Wellness – Health and nutrition for mind and performance
Event Design – Building new experiences and maximizing human performance
CSR, Legacy, and Positive Impact – Driving new levels of meaning and connectivity
Technology – Turbo charging ideas, creativity and connections
4. The expanding role of technology.
What we said: Technology will be used to surprise and delight a meeting audience, gamify the experience, and for education and empathy.
How we saw this play out in 2017:
There was no shortage of the use of technology, especially in experiential brand activations this year. Lancôme used facial recognition technology to entice millennials to try their products.
But facial recognition isn't just used for experiential campaigns. British Magazine, THE WEEK, reported in its November 24th (2017) edition, that "Facial recognition is most common in China, where people can use it to pay for coffee, visit tourist attractions, and even withdraw cash from ATM's." Furthermore, "In Europe, high-end hotels and retailers use facial recognition cameras to identify VIPs and celebrities as they enter, in order to give them preferential treatment. Several U.S. Airlines are looking to replace boarding passes with face scanners."
With the release of facial recognition technology as a feature of the new iPhone X, it's only bound to grow in popularity and use – especially in meetings and events for things such as crowd management, security and photo tagging.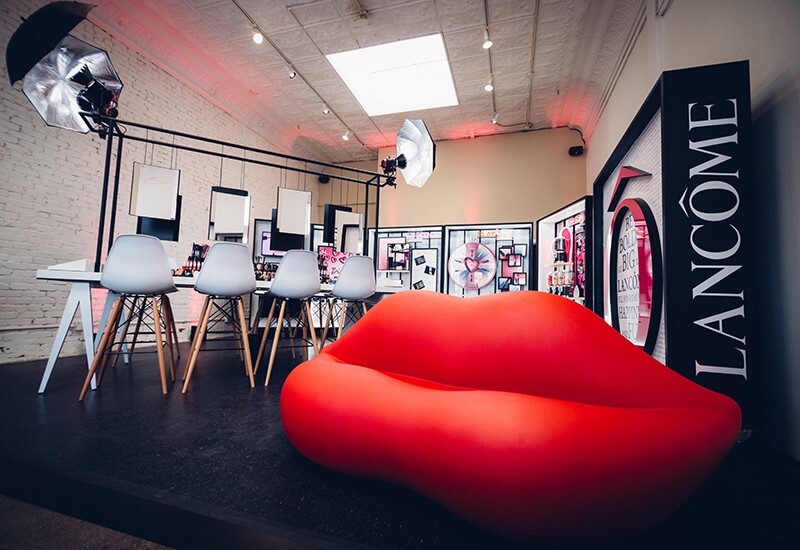 5. 
Why
 diversity
 leads to innovation and how to embrace it.
What we said: Due to the nature of our business, it's no surprise that many industry leaders have taken a firm stance on their support of diversity practices. From the gender gap to LBGTQ rights and beyond, the meetings industry can serve as a powerful leader with active examples of inclusiveness. Many conferences have started to require diverse members on speaker panels. Other companies have selected their meeting destinations based on inclusive views and values.
How we saw this play out in 2017:
At the tail end of 2017, we saw the #MeToo movement emerge and the conversations and publicity surrounding it will undoubtedly further the importance of and demand for diversity in business and events alike. Earlier in the year, David Jefferys, president and CEO of the Altus Agency and founder and executive director of the LGBT Meeting Professionals Association (LGBT MPA), exclaimed that "diversity is the new normal." And organizations are being noticed – and being called out – for ignoring this important topic. For example, CES, the biggest tech convention in the world, is being scrutinized for its lack of female speakers at its most recent events.
Though every company and meeting is far from being completely inclusive, Dan Williams, vice president of convention sales at Experience Columbus is hopeful for the future. In his interview about diversity with Connect Corporate Magazine he said, "We're already seeing a younger generation that's more open and accepting than any generation of the past has been. As these young adults begin their professional lives and work up to leadership positions, the industry should automatically become more inclusive."
6. 
Prepare to deliver 
successful outcomes
What we said: Risk mitigation and proper negotiations on the front-end will also help set your program up for success.
How we saw this play out in 2017:
Unfortunately, many natural and man-made disasters hit the U.S. in 2017. And the concept of Duty of Care for meetings and events is being (and should constantly be) reexamined for efficacy.  From hurricanes to wildfires and other weather events, knowing where your attendees are at all times will help save time, money and even lives. When using a single provider to book and manage your group air, you have insight and centralized communication to advise of potential threats and rebook as needed.
The wording in hotel/venue force majeure clauses is also something that likely had an effect on many groups during these occurrences. While clauses are supposed to be mutually beneficial, sometimes the language is slightly adjusted; putting the group at a financial risk. 2017 has only proven that paying close attention to this and other clauses is extremely important.
Lastly, and most tragically, the shooting massacre in Las Vegas became an example of the importance of having mobile event app technology while onsite with a group. Though luckily not directly affected by the incident, Creative Group had a group in Las Vegas, and when WI-FI at the group hotel was taken down because of the mayhem, our EventAPP™ was the only form of communication with the attendees through the hectic days that followed.
Did you see these trends come to life in your 2017 meetings and events? They will continue to have a strong presence in 2018 and beyond.
Want to chat about your meetings?