4 Easy Steps to Plan Green Meetings (BONUS: Green Glossary)
Are your meetings Green or Sustainable? Wait…there's a difference?
While one concept is a big picture and the other more tactical, it doesn't mean both can't help make a positive impact. The table below qualifies the difference between green and sustainable and can help you decide which route your current abilities and resources will allow you to take for your next event.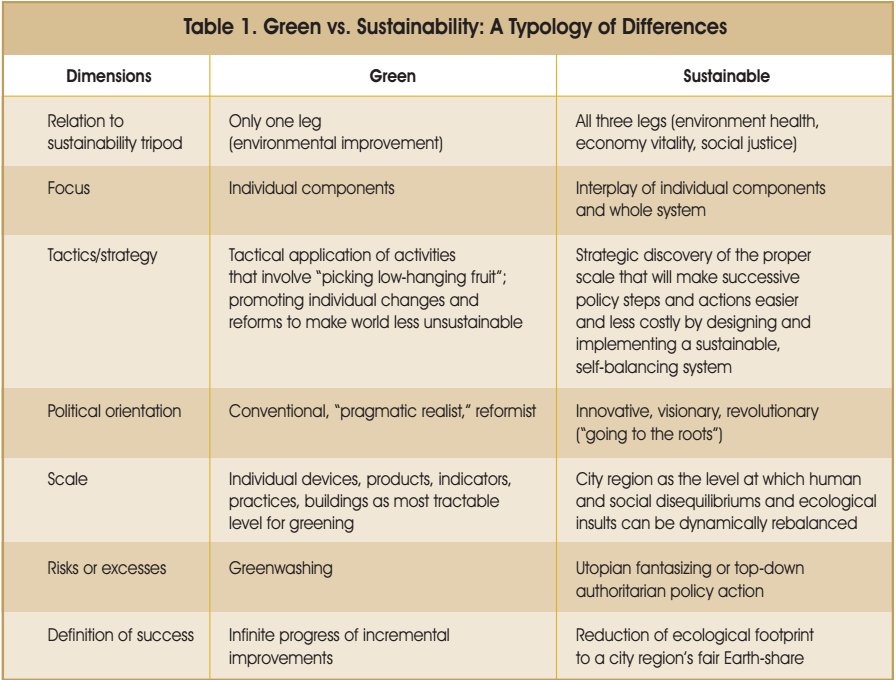 MARY ANN LIEBERT, INC. • VOL. 2 NO. 5 • OCTOBER 2009 • DOI: 10.1089/SUS.2009.9838 SUSTAINABILITY 297
Even though "green" initiatives are only part of the equation, they are still generating incremental environmental improvement through individual products or contributions. We see this in energy-efficient appliances or less-polluting vehicles. Both are popular practices and applications, but they don't address the bigger picture.
As the table above depicts, sustainability is characterized by the inner workings, systems, and processes as they relate to environmental health, economic vitality, and social justice, i.e., the big picture. Now that's a large spectrum to conquer. Because of the vastness and vagueness of sustainability, it can be a daunting challenge. Green practices help bring bite-sized action items into play, making them more digestible. However, just like an event should be conceptualized with a purpose in mind, so should your green and/or sustainable initiatives.
While the scale and successes are staggeringly different, you have to start somewhere. Beginning with this holistic mindset will help you lay the framework for the environmental goals of your event and can even play into favorable people and profit outcomes.
Creating green and sustainable events doesn't have to be costly, (in fact, it inevitably saves money), it just takes the right commitment. Start planning sooner rather than later; if you get rolling too late, you may find people are "too busy" to take care and unmotivated to comply. Below is a guide we've compiled from top-notch advice blogs and best practice resources. It's what we consider the essentials—or at least thought starters—for eco-friendly meetings and events. Follow these four steps to be nice to the planet and your budget while still delivering an outstanding meeting.
Step 1: Be a Trailblazer (Policy)
Step 2: Make 'Em Care (Communication)
Step 3: Choose Wisely! (Venue Selection)
Step 4: Don't Forget to FLOSS (Food and Beverage)
Bonus: Green Glossary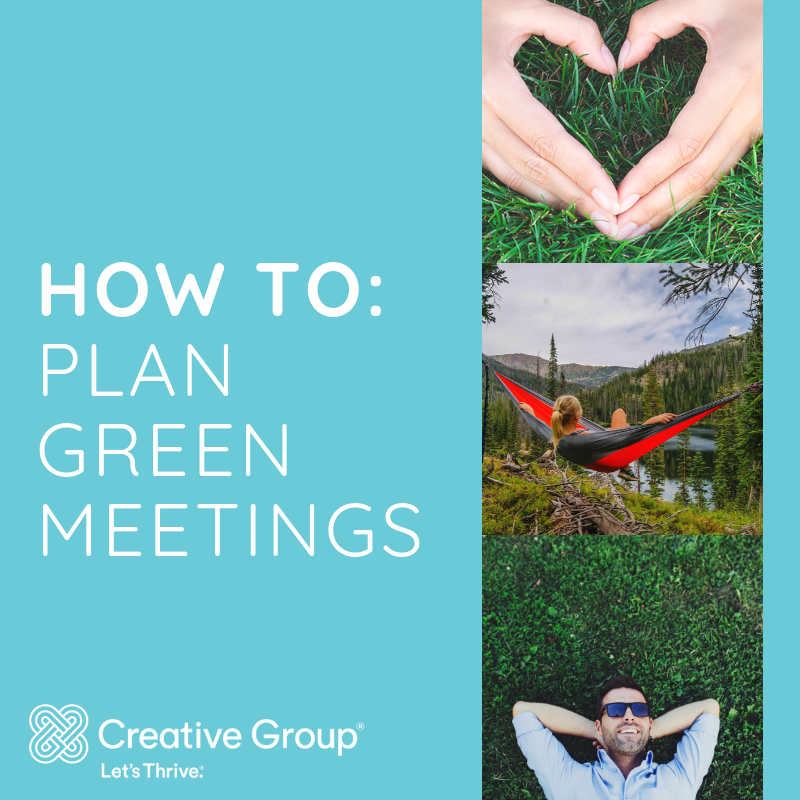 Step 1: Be a Trailblazer (Policy)
Generate a meeting-level policy. This can be derived from an organization-level policy but should be fairly specific to the goals of the meeting.  This is the opportunity to clarify the environmental intentions for the event and ensure everyone is taking ownership of their responsibilities throughout the planning and execution phases. At least be sure to address minimum requirements to vendors and suppliers as they relate to water use, energy, waste diversion, carbon emission, etc. You can use an emission calculator to determine the credits you'll need to purchase to have a carbon-neutral event. Offsets can cost between $5 and $15 depending on attendee travel required. You should also take this time to list important values, SMART goals and targets, and commitments as to how outcomes will be reported and communicated.
Step 2: Make 'Em Care (Communication)
Education and advocacy are key. If people don't know what you are doing, why would they care? If they don't understand what they are doing, help them understand. Using data is great, but telling stories is better. Be inspiring with storytelling about food journeys or local farms. Make green feel human. Tie it into mindfulness and games to make it fun. Occasionally there is a preconception that having a green or sustainable meeting will diminish the quality of the event or frustrate attendees. This can quickly be squashed with the proper communication, but beware of buzzwords. Make sure you are setting the proper expectations and attendees are familiar with the jargon used in your messaging. See the Green Glossary for more information. To avoid misunderstandings and disappointment, you can even include the green glossary as a feature on your app. Using a mobile EventAPP™ for your event can also help you eliminate or reduce the amount of print collateral used at your event.
Step 3: Choose Wisely! (Venue Selection)
When selecting a meeting venue and accommodations, here are some things to keep in mind. A central location that has high walkability or near public transportation will help minimize travel and transfer costs as well as reduce emissions. Look for locations that have achieved green certifications such as Green Key (mostly internationally), LEED (mostly domestically), or Green Seal. You can also calculate the destination with the lowest carbon footprint, based on where your attendees are coming from. Ask about linen reuse programs, recycling and/or composting, digital signage, and donations programs. In vendor and supplier selections, think about negotiating environmental practices into the contract if green initiatives are not the supplier's strong suit. Also, don't be deterred by venues telling you food donation is illegal. The Bill Emerson Food Donation Act protects good-faith donors from civil or criminal liability.
Step 4: Don't Forget to FLOSS (Food and Beverages)
As presented at the Prevue Visionary Summit, think FLOSS: Fresh, Local, Organic, Seasonal, Sustainable foods. Also, keep in mind that vegetarian and vegan choices have a lower carbon impact than meat-based meals. Consider using reusable dinnerware or compostable options. Bulk dispensers for items such as creamer, sugar, and condiments will also reduce the amount of waste. Add color to your event by providing branded refillable water bottles or infused water stations. Not sold on the idea? The GreenBuild Conference saved $25,000 by eliminating bottled water and providing water stations instead.
We hope you'll find these steps helpful in starting and carrying through your sustainability goals for your next meeting or event. See the Green Glossary below to better understand key "green" buzzwords and trending eco-friendly diets, or to help explain them better to your attendees.
Let's Thrive.
Want to learn more?