Let's explore the touchpoints of an incentive travel program before, during and after the trip to better understand how a mobile event app can motivate, inform and elevate the experience for participants.
We will view this journey through the eyes of "Sharon", a sales executive eligible for her company's incentive program. Here's what her experience could look like:
Launch
"My company just launched an app that houses all of the information we need to win this year's incentive trip. It'll be great. Since it's right on my phone, it's easy to access and the pop-up notifications deliver convenient reminders to help me reach my goal.
"The inspiring video message from our CEO really resonated with me, and the destination is amazing! My husband and I always talked about taking an African Safari, but now the possibility seems more realistic than ever. The photos of our accommodations in a safari lodge are breathtaking. I can already picture myself searching out all the wildlife and taking in the local culture."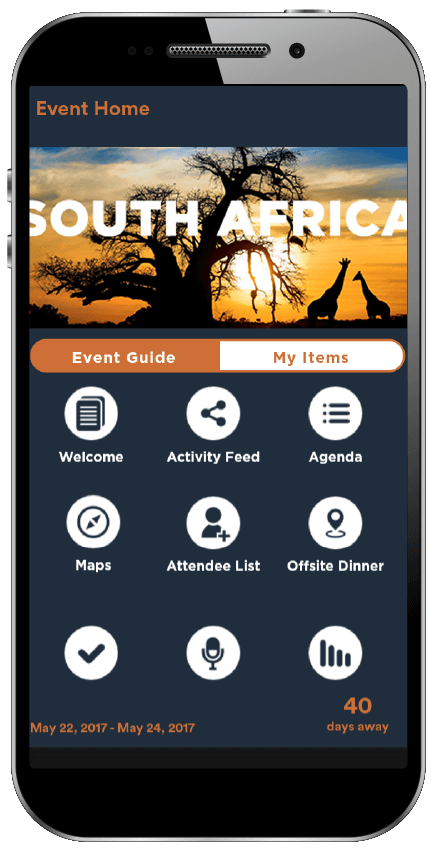 Announcement
"Wow. I feel on top of the world right now. I hit my numbers out of the park this year, and won the trip to South Africa! It's great to see the bios of the other winners on the app. We even exchanged a few messages congratulating each other and shared our excitement about the trip."
Pre-Trip
"I'm glad I don't have to search through email chains for all my travel details. All of the arrival and departure information and activities are right on the app, plus there's an agenda so I can plan out when to get some face time with the senior leaders. I can't wait for the trip countdown clock to reach zero."
On-site
"It's finally here! We made it to our lodge and the maps on the app are super helpful to get around the property. Since I'm in vacation mode, the personalized schedule keeps me on track so I don't miss any of the cocktail receptions or group activities. The app has some fun features too. We're all competing against each other in this photo scavenger hunt game; not to brag, but I'm totally winning right now (as if we weren't a competitive group – wink wink). I like using the chat feature to meet up with my co-workers and the activity feed to see everyone's posts and what they are up to at their lodge. I don't want to miss anything!"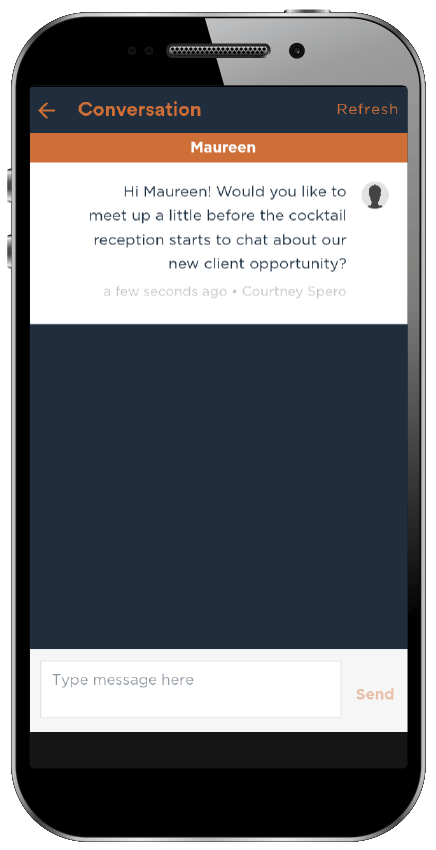 Post Trip
"What a trip! Our kids loved scrolling through the photos we collected during our time away and our friends are super jealous. I will never forget the beautiful animals on the safari and the people I met in South Africa.
"The trip was such a memorable experience – like nothing I could have created on my own.  My company really showed me how much they value my contributions and appreciate my hard work. Not to mention, the people I connected with were amazing.  You can bet I am going to try my hardest to make it on next year's trip too…the app just notified me it's in BALI!"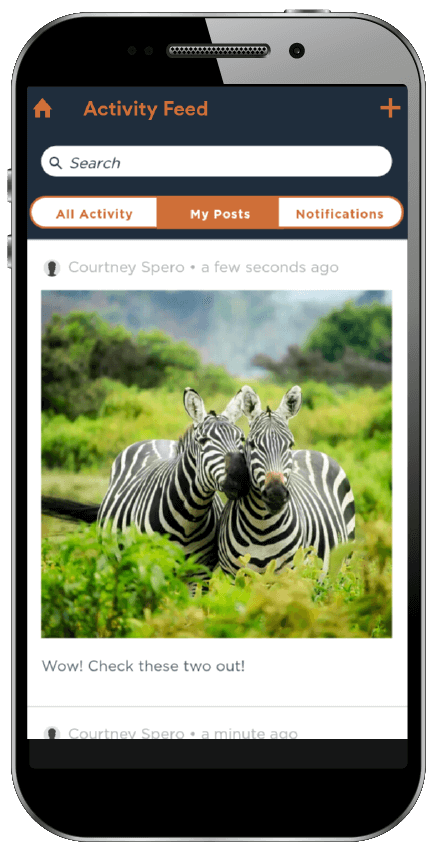 If you are the leader of a sales organization, wouldn't you want to engage and inform your team this way? Let us create an EventAPP™ for your next program.
Call to Schedule a Demo Today