Add these five steps to your indirect sales channel strategy and watch sales grow.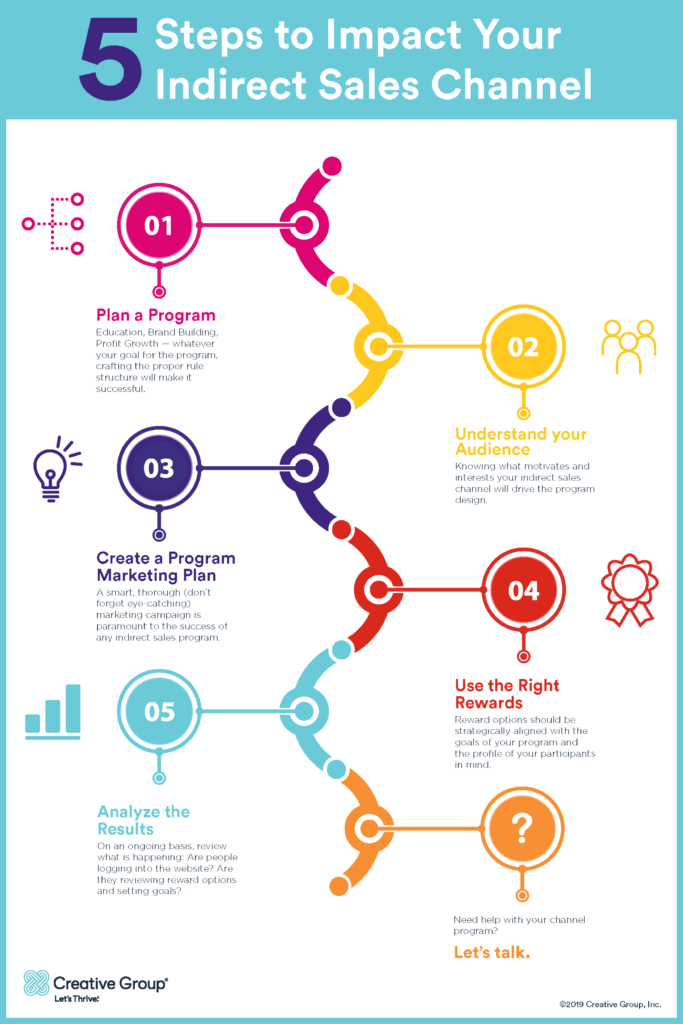 1. Plan a program
Education, Brand Building, Profit Growth – whatever your goal for the program, crafting the proper rule structure will make it successful. To get the most out of your indirect sales channel, it's recommended that you work with an expert that can apply social psychology, behavioral economics, and incentive program best practices. Poorly designed programs can create expensive unintended consequences.  But professionals will ensure you are applying the right marketing, incentive, and influence techniques to get the results you want.
2. Determine and Understand Your Audience
Whether you have run incentive programs in the past, or are starting fresh, you won't get far without understanding your audience first. Knowing what motivates and interests your indirect sales channel will drive the program design. Our participant perception survey template could help with this. Audience information also comes from historical data, interviews, and even artificial intelligence.
A smart, thorough (don't forget eye-catching) marketing campaign is paramount to the success of any indirect sales program. You wouldn't launch a new product without the accompanying marketing effort, and you shouldn't launch an incentive, reward or loyalty program without a well-designed marketing campaign either.
There are simple steps everyone should follow to execute a powerful incentive communication campaign, such as ensuring it has a strong theme, building excitement and utilizing technology when the situation warrants it.
4. Use the Right Rewards
Reward options should be strategically aligned with the goals of your program and with the profile of your participants in mind. Certain rewards even encourage participants to focus on wider company goals versus their own individual goals.
5. Analyze the Results
Data is what allows you to continually enhance and engage your audience. On an ongoing basis, review what is happening: Are people logging into the website? Are they reviewing reward options and setting goals? Are they selling more? Getting feedback from participants is important too. Success metrics might include a tangible ROI; however, overall impact is important to measure as well. Participant sentiment and learning comprehension, for example, could impact future sales – so don't count this out.
Need help with your channel program?