by Courtney Spero
---
Last month, as I geared up to attend the College of Extraordinary Experiences (CoEE), I had to prepare for the unexpected. With no agenda – just the promise of an unforgettable event – I was unsure of the actionable insights I would be able to bring back to my Creative Group colleagues. While there's no substitute for experiencing something first-hand, I'll attempt to explain my key takeaway with pictures and analogies.
My key takeaway: Great meetings and events are just like great roller coaster rides
This article from Business Insider dives into the psychology behind some of the world's craziest coasters. "Defying death", losing control and the unpredictability around every turn are just some of the elements that immerse riders in a 2 ½ minute journey. Think of your last visit to Disney, Universal Studios or Six Flags. Were you engrossed in a themed environment? Were you watching other riders scream as they did a 70mph loop right by you? What were your thoughts immediately before you buckled in? How about when slowly creeping up to the highest point?
My time at the College was significantly longer than an amusement park ride – four days long – but the organizers were still able to incorporate all of the elements to make it an unforgettable experience.
These five R's helped me make the correlation between events and roller coasters and explain what made the College of Extraordinary Experience so transformative – Ramp-up, Risk, Reveal, Reward, and Reflection.
Ramp-up
From the pre-program communication to the "goblin" that helped me with my luggage, I knew I was about to attend a conference unlike any other. The organizers ramped up the anticipation of the event with alluring professors (speakers) and a secretive curriculum. The fact that we were about to stay in a castle dating back to the 13th century, also added to the intrigue.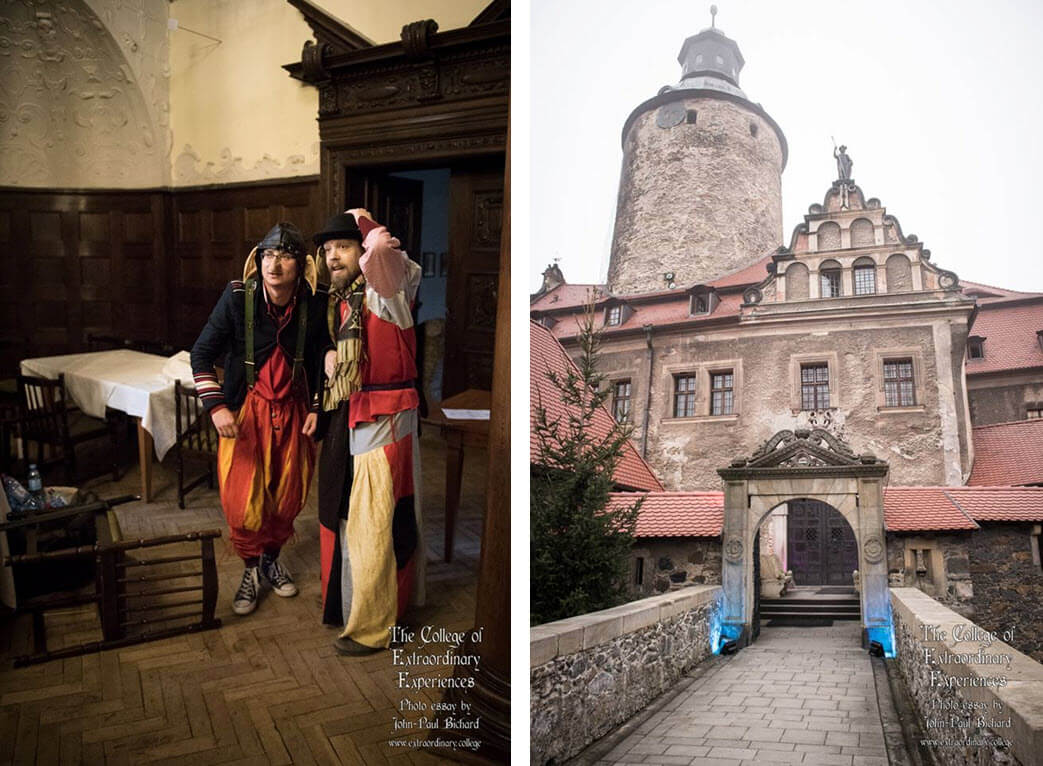 Risk
After a private, awe-inspiring piano performance in the dark library, we were led by lanterns through a secret passageway to select our garb for the duration of the conference. At first, I felt a bit silly, but later realized it helped everyone open up and get to know each other without judgment. I left my everyday life and crossed a threshold to the land of endless possibilities. The hidden chambers and dark corridors of the castle added an element of uneasiness, but my curiosity always won out.
Reveal
Every aspect of the conference had some sort of "unveiling;" whether it was the delicious smelling banana-cloud explosion or the epically-sized illustrative summary of the weekend's events (see image below).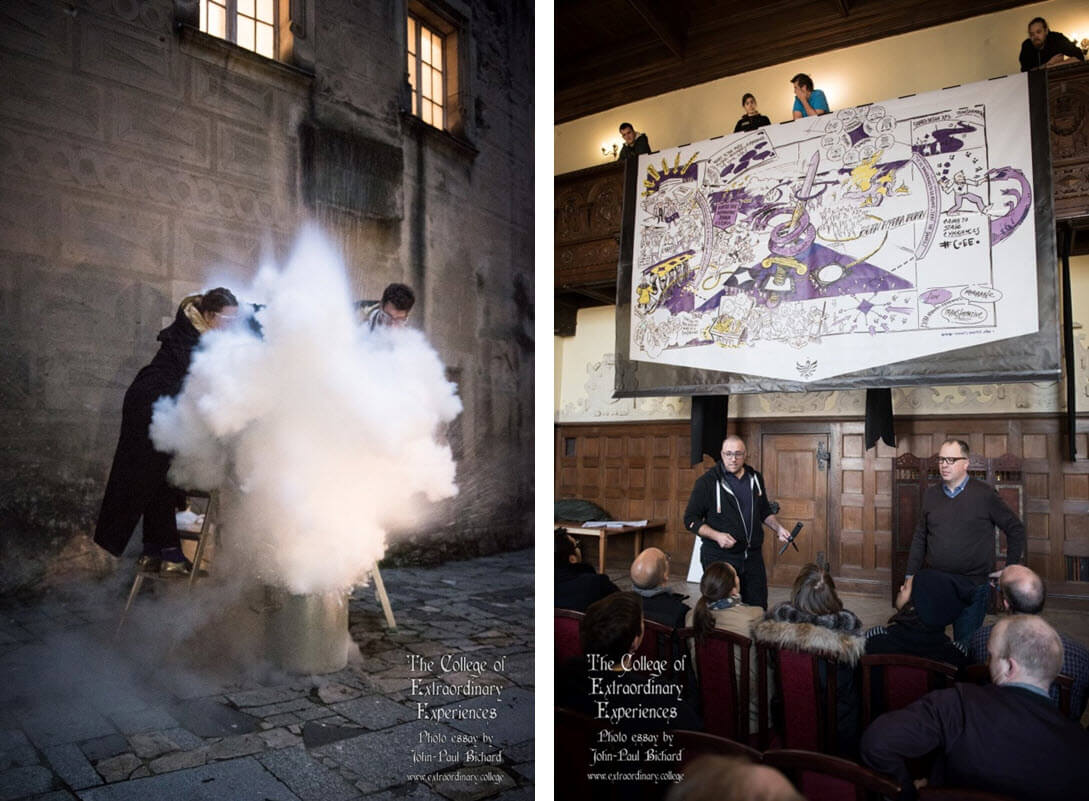 Reward
For me, the reward was the opportunity to meet so many different people from so many different cultures and disciplines. All of us having the chance to work together, to be creative and to help each other better relay the importance behind great experience design, was a transformative experience. Not to mention, I can now be referred to as "Experience Designer Extraordinaire".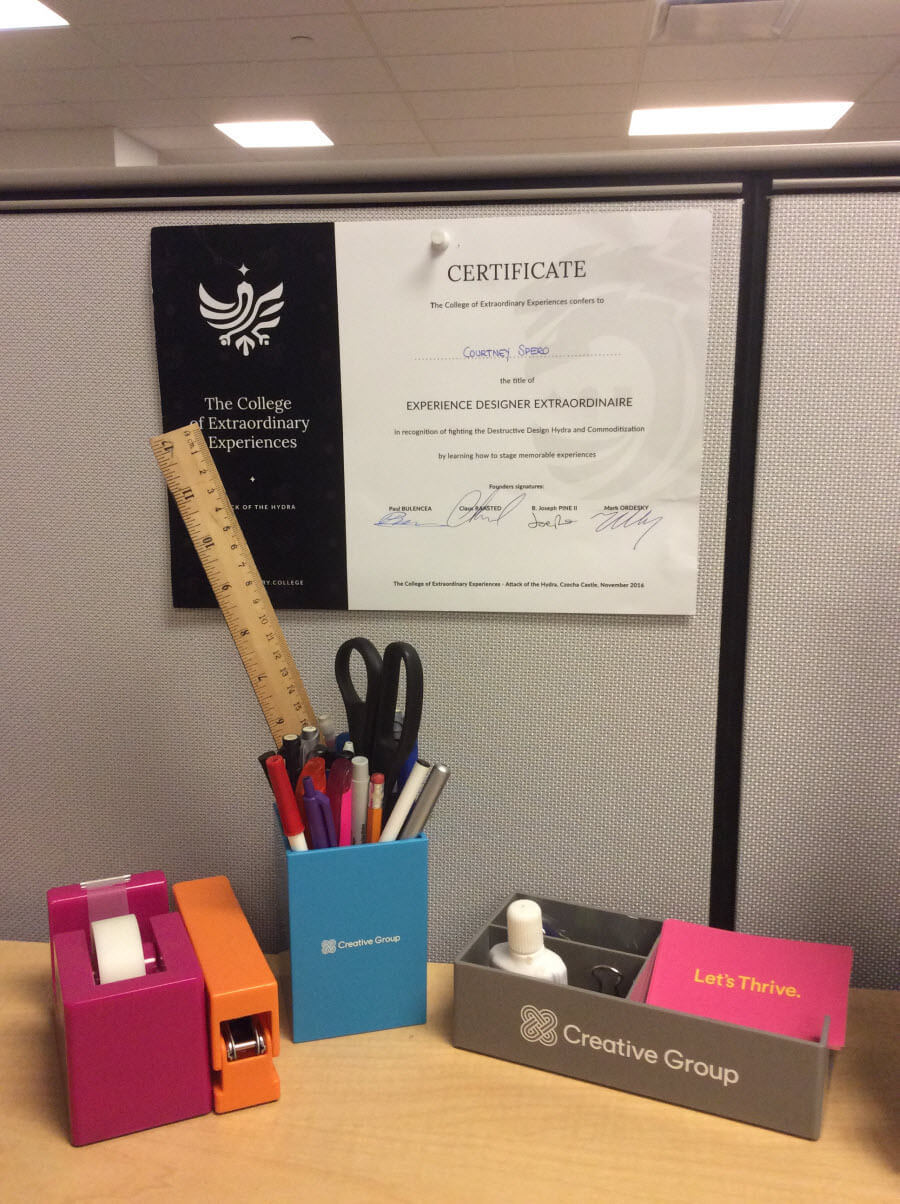 Reflection
The College was filled with so much stimulation and insightful information that the organizers knew it could be too much to truly comprehend after a few short days. A guided debrief of the event's highlights was infinitely more beneficial than sifting through a copious amount of notes on the plane ride back to reality. Not to mention, an online community was formed to keep the conversation going. It's a great place to share photos and videos from the event, as well as continue discussions with CoEE alumni.
Next time you are designing a conference for your customers or colleagues, try to visualize the path of a roller coaster. Take the participants on a transformative journey by thinking about how they will interact with every touchpoint of your program – from the pre-event ramp up, to the risk, reveal and reward of the live experience, to the post-event reflection.
Interested in learning more? Contact Creative Group to put these learnings to work for you.