Everybody's Doing It
People love live streaming events. From the Panda Cam at the San Diego Zoo to the Presidential Inauguration, it's taking place in the office cubicle and on the train. According to LiveStream.com, breaking news makes up 56% of most-watched live content. Conferences and speakers are tied with concerts and festivals in second place at 43%. Multiple sources claim that 2016 was the "Year of Livestreaming."  The concept of live media is nothing new, but it's easier than ever for people to watch across multiple devices, wherever they want. That's good news for meeting and event planners because live streaming can help them extend the reach and life of their program. In fact, LiveStream.com also reports that 67% of live video viewers are more likely to buy a ticket to an event after watching a live video of that event, or a similar one. If you are looking for a comprehensive guide highlighting why you should use live stream and which brands use it, the Ultimate Guide to Livestreaming Events provides all the nitty gritty details.
Plan to Avoid Mishaps
Already convinced live streaming is hot right now? We've got information to help you decide if it's RIGHT for your event. Live streaming has many benefits when done legally and thoughtfully. But what if it backfires? We spoke with Andy Flanagan at Flirt Communications who recalled a public convention where that's exactly what happened. Big name presenters received negative comments from viewers via the live comment feed while they were still presenting. Whoops! While you want to capture honest feedback, some avenues for collecting this information, such as mobile app surveys, are more tasteful and less distracting according to Flanagan. Eventmobi provides some useful tips (inspired by marketer, Kerry Gorgone) to help create a successful live stream:
Have the appropriate release forms and consent ahead of time e.g., crowd release form, location release, and written permission from featured individuals.
Plan ahead and check the area surrounding your live streaming venue for posters, logos, artwork, and screens.
Schedule the broadcast to avoid music or sensitive material in a session or presentation.
Request written permission from speakers and performers before you include them as part of a stream and ensure they have the rights to all of their own material.
Have a contingency plan in case the original streaming area is compromised by copyrighted material or crowded by attendees.
In less than 5 years, Cisco estimates that 75% of the world's mobile traffic will come from video. The practice and consumption of live streaming has become ubiquitous. When done well, it can convert virtual to physical attendees at a rate of 10-30% according to Digitel, Inc. And if you are looking for supplemental revenue, Livestream.com says 45% of live video audiences would pay for exclusive content.
Is Live Streaming Right for THIS Meeting/Conference/Event?
Navigate through this series of questions and answers to find out if live streaming is right this time around.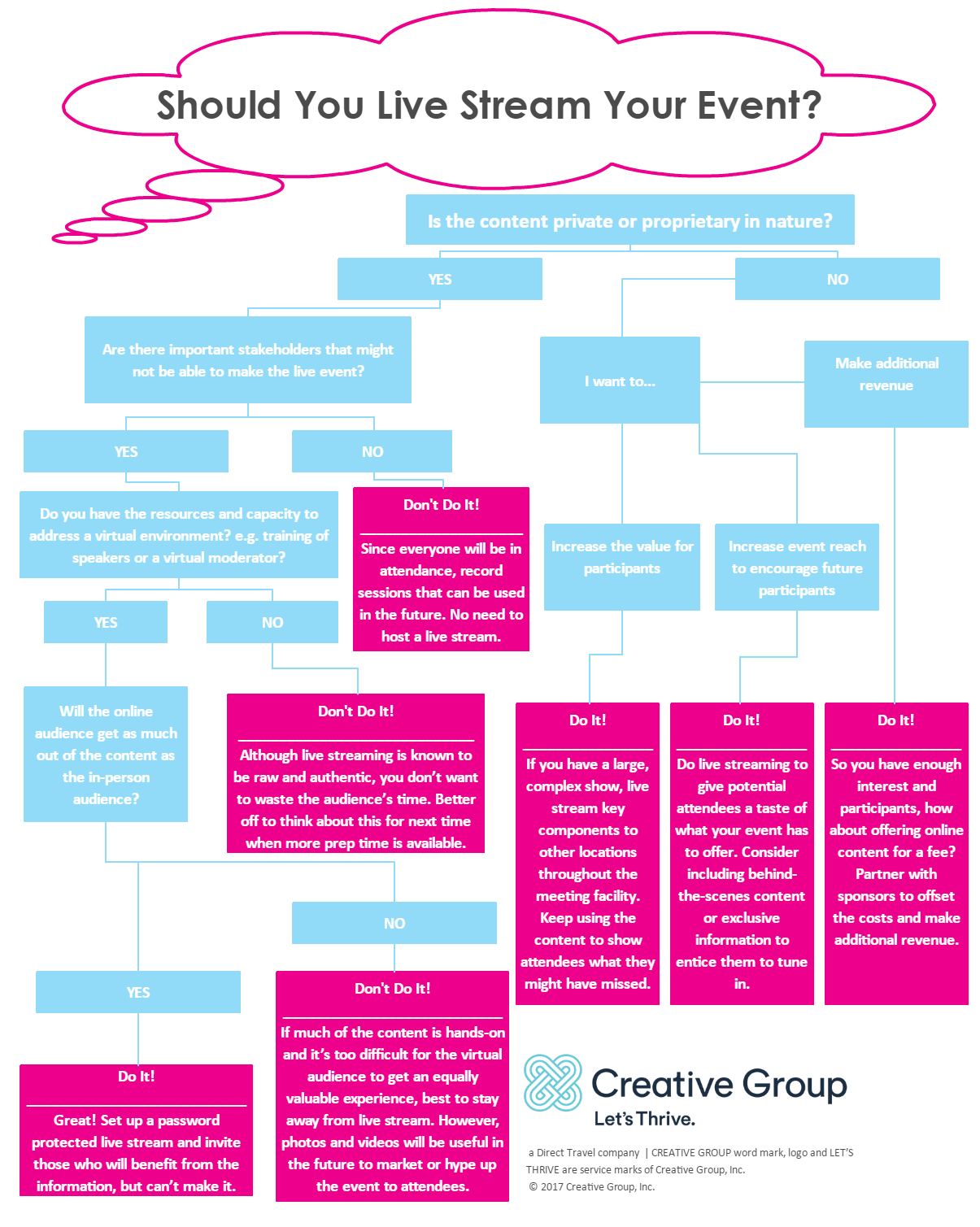 Want More Guidance?