Creative Group brought together three behavioral experts to discuss common mistakes leaders make when it comes to incentive program design.
Sin 1: Incentives are rewards for top performers only
YOUR INCLINATION: I want to make sure the best person on the team gets a great reward.
THE ARGUMENT AGAINST IT: Everyone can grow, why leave results on the table?
Sales managers, like everyone else, get good ideas mixed up with bad ideas from time to time. A common sin for the sales manager is to create an incentive with a rule that ensures top performers will win. Their intentions are good, but the application is misguided.
Sales managers want to make sure the top reps feel good, that they feel they are treated well and have good reason to remain on the team. Nobody wants to lose good reps.
Sales managers often apply a fundamental behavioral tool — reciprocity — by being "good" to top performers by "guaranteeing" them a winning spot, so they respond in kind and stick around.
This fails on three levels.
The first is that top reps need recognition, not incentives, to make the organization "stickier" to them.
The second is that incentive rules that unnaturally favor top performers will be seen as unfair by the remainder of the reps; leading to disengagement.
Lastly, sales managers need to pay attention to core reps by helping them develop into stronger performers.
---
There is a difference between incentives and awards to recognize top performers. Top performers who automatically qualify may or may not deserve it, but they definitely need this recognition to stay engaged. Reciprocity is a powerful tool and sales managers should use it properly by creating special recognition for the reps who deliver consistently strong results.
According to incentive industry research, a "top 20%" rule only engages about 35% of the reps. The remaining 65% disconnect because they don't envision themselves as having a chance. Disconnected reps aren't just bad, they are the enemy. Disengaged reps deliver less and tend to cost the organization more.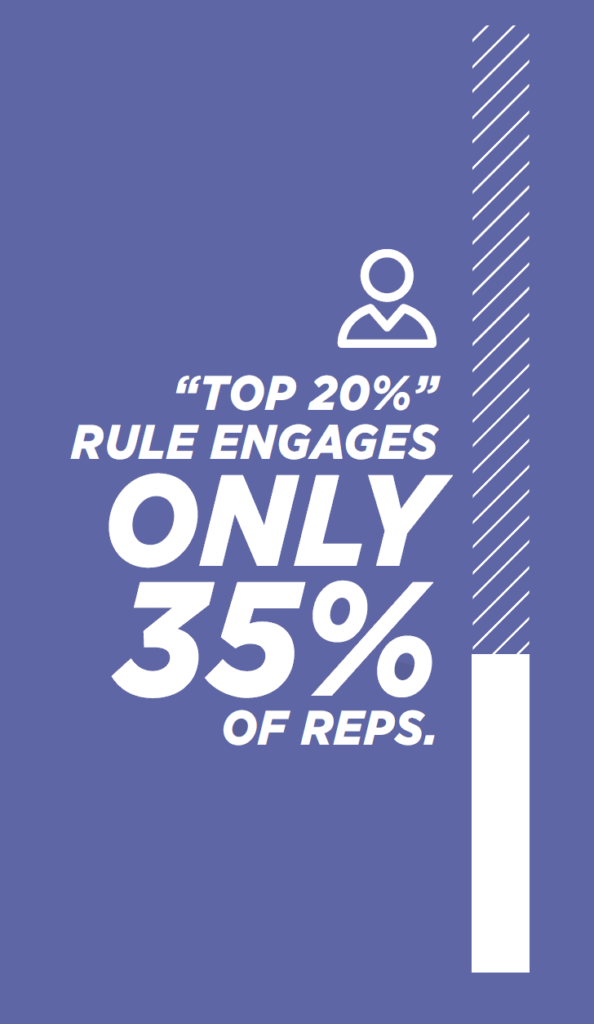 The 65% who disengage simply won't take risks if the odds are against them. No one starts climbing Mount Everest if they don't believe they can reach the top. Again, humans are excellent at conserving effort.
Sales managers also find themselves believing that the middle and bottom performers are merely free riders not pulling their weight intentionally. Not so. Researchers find that bottom performers are expending effort and feeling guilty about not being on top and, because of that, they are working hard. Free riders are pretty rare. What middle and low performers need is coaching and opportunities to succeed. And a clear picture of the future that includes being recognized for their efforts when they are part of the top of the sales pyramid. Risk compensation is at the core of not feeling close enough to the goal to feel secure in striving for it. Reps become more careful where they sense greater risk, and they pull away from chancy deals. It's sinful to put an incentive in front of the entire sales force with the proviso that anyone can qualify when the real objective is to recognize only the top performers.
The problem is that many confuse the concept of incentive and recognition and assume programs that recognize top performers are about incentivizing the audience. They don't. Top-performer programs are purely retention plays. They are designed to make sure your best people stay with you — not to motivate the entire distribution. Run incentives to move the overall performance curve; run top performer programs to retain the top level.
Finally, it's worth asking where did the top performers come from? They had to start somewhere.
Interested in learning more? Enter your information to download the full eBook or view the live recording:
Define your incentive and recognition strategy now.